By default, a new user's difficulty level of questions in Daily Challenge is Elementary Challenge. It will automatically upgrade to next level once the user completes certain amount of question correctly.
You can also choose a different difficulty level for your Daily Challenge, by clicking on the button with the stars.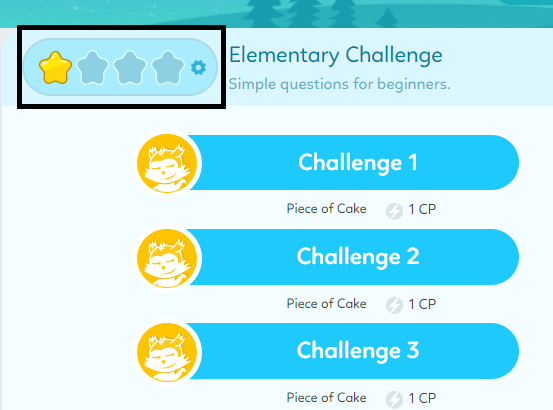 In different levels, you can earn different KoKo Credits (KKC) if you completed all questions.
- Elementary Challenge: 1 KoKo Credits
- Intermediate Challenge: 2 KoKo Credits
- Advanced Challenge: 3 KoKo Credits
- Master Challenge: 4 KoKo Credits
There is no KoKo Credits awarded to Customized Challenge.
Please note that, you can only change difficulty level for maximum 3 times in a day, and you cannot change it once you attempt any question in Daily Challenge.
Restrictions on Difficulty Level Options
1. Users can only change the Challenge Setting after they have earned a certain amount of CPs.
2. The difficulty level option will be restricted according to your challenge level achieved.