As a parent, you may log in to your child's account and click 'Report' from top the navigation bar. Alternatively, you may also visit this link for direct access to the 'Report' feature: https://student.koobits.com/report/proficiency.

Once you have access the 'Report' feature, you will be able to see 2 separate tabs for 'Proficiency Report' and 'Hight Score Report'.

With the initial learning of a new skill, we would encourage parents to utilise the High Score Report as it would be more than sufficient to track the progress of your child while the Proficiency Report would be more beneficial for a longer-term analysis as it shows the child's improvement or knowledge decay for each skill over a period of time.


High Score Report
Our star system primarily focuses on a different criterion when it comes to rewarding learner based on their performance in Self-Practice tasks. Our High Score Report analyses data from the feature 'Mission' and it is currently updated in real-time. Learners are awarded stars based on how they fare within the sets of 10 questions.
A child can get A-Star by answering 5 consecutive questions correctly for skills that they have never attempted before.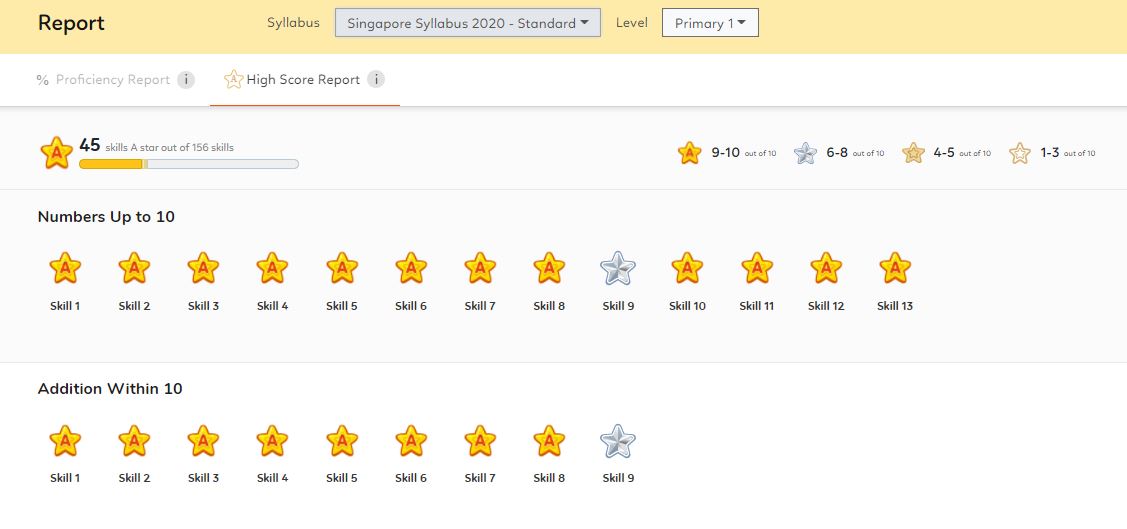 Proficiency Report
In this report, you can view all skill's mastery status and proficiency in details, coded by color based on the proficiency indicators.
Gold - Mastery 80% - 100%

Green - Competent 60% - 79%

Pink - Beginning 0-59%

Gray - Incomplete Question < 10
Proficiency Report analyses data from several features such as Challenges, Mission, Assignment and KooQuiz. The report is updated once daily hence we suggest parents to read the proficiency report on the following day.
Our Proficiency Report also requires at least 10 questions answered per skill before lighting up.