KooBits platform is essentially driven by 2 main reward systems - Challenge Points (CPs) & KoKo Credits.
Challenge Points (CPs) are earned by completing a variety of unique and exciting challenges that you can find all across the KooBits platform.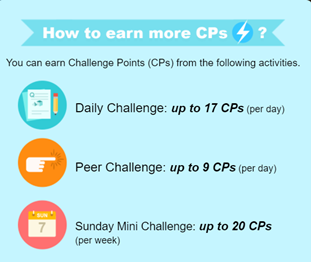 Earn Challenge Points by completing Daily Challenge, Peer Challenge or Sunday Mini Challenge
Challenge Points accumulated will be used in the computation of your ranking in the various Leaderboards (Hero of the Day, Top Brain etc)
For a start, we recommend kickstarting your CP-earning journey with the KooBits Daily Challenge, an exciting and extremely popular segment where you get to put your wits and your skills to the test with a fresh set of 10 challenges to earn points from - made available each and every day.
Each challenge is of a varying difficulty level and earns you a different amount of CPs.