If you are interested in KooBits Science and is new to KooBits, you can sign up for the free 7-day Science trial here. Kindly note that this trial will start immediately after registration and payment will be charged 7 days later if it is not cancelled within 7 days. Refer to this guide if you want to cancel trial.
If you are an existing KooBits Maths subscriber, you can follow the steps to try Science for free for 7 days first before deciding whether to buy. No payment details are required to register for this Science Trial and you can purchase at any time in the platform during this 7-day trial period.
1) Log in to the KooBits platform at member.koobits.com with your child's Login.
2) At the top left-hand corner, click on the dropdown button and click on the button "Try" under Science.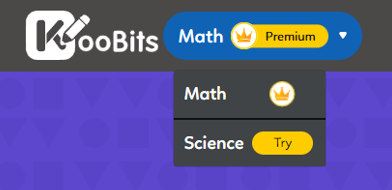 3) Follow the subsequent steps stated.
If you need any further assistance, you can reach out to us via our Contact Us page.