KooBits school plan has far fewer benefits than KooBits Plus and Premium plans for your child to independently and effectively learn maths at home.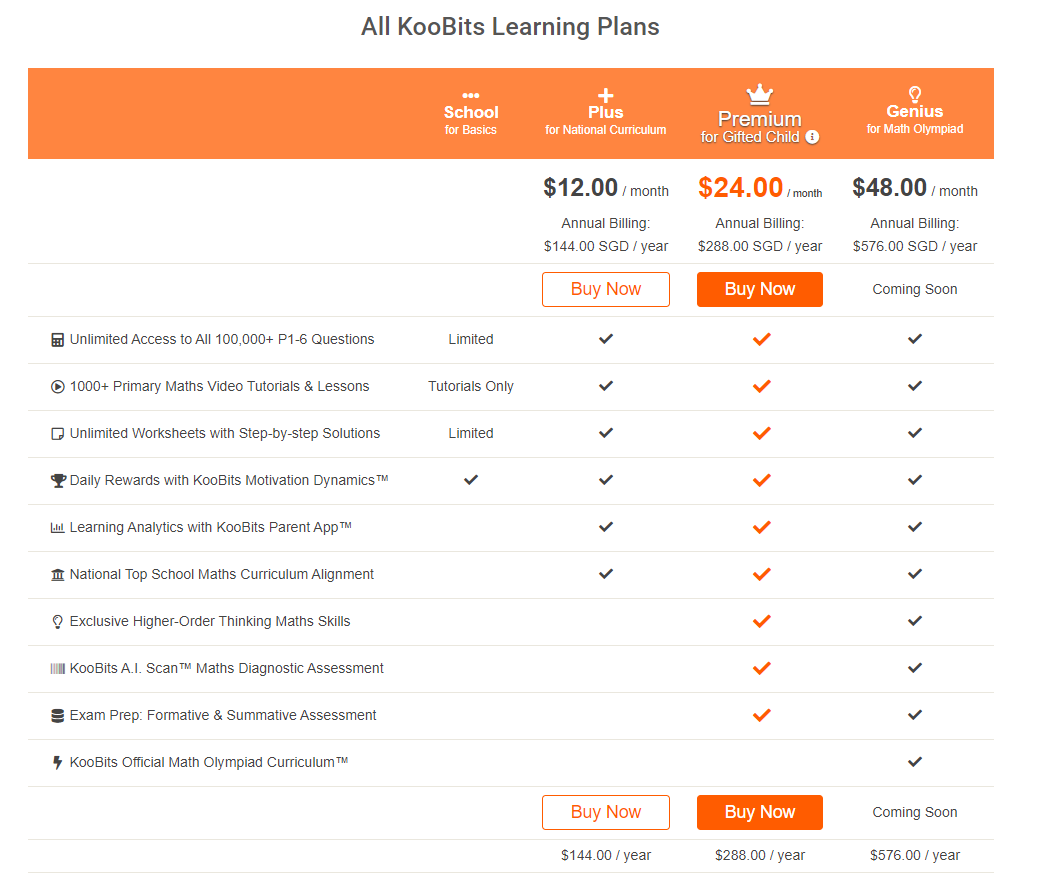 Prices on the image above are in Singapore dollars.
In short, KooBits individual plans have 3 main differences from school plan:
1. Parent App – keep track of all your child's learning data
Your child's learning data such as learning activities, strengths and weaknesses, and cohort benchmarking are so valuable however you might not have access except asking teachers for it from time to time. That's why the Parent App is such a powerful tool for any parent to have control and know the child's learning. Learn more about Parent App at koobits.com/parent/app.
2. Better Content - high-quality questions and unlimited worksheets
Your child's school only provides standardized content to every pupil, but an undifferentiated learning experience may not be the best for your child's learning. That's why KooBits partners with top educators to offer exclusive higher quality questions with step-by-step solutions and video tutorials to address your child's learning needs. Learn more about KooBits Premium at koobits.com/premium.
3. Guides for Parents - helping parents motivate child in learning
Your child's school teachers may not have enough time to implement all the best practices of KooBits in school, so we are here to assist all parents with regular workshops to guide how to maximize all KooBits benefits at home easily and effectively. Most parents who attended our workshops told us their children became more motivated in learning maths every day by themselves!
4. Exclusive access to KooQuiz: The most comprehensive library of Maths & Science quizzes
KooQuiz is coming to KooBits Plus & Premium only on 14th September 2020. These are top school quality assessment papers for exam prep, with new quizzes updated monthly with detailed solutions. Learn more about KooQuiz at koobits.com/kooquiz.
Basically, KooBits individual plans will upgrade your child's learning experience to a new level beyond the standardized school experience.
Learn more about all plans at koobits.com/plans, and feel free to contact our dedicated service team anytime!