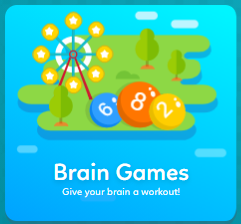 There are six areas in Brain Games: Attention, Memory, Flexibility, Problem Solving, Speed and Adventure. Here are rules:
1. It only opens from 8am to 6pm every day.
2. You can only play up to 25 minutes in a single day.
- The play time starts counting once any game starts and is consumed while playing or after.
3. Each game requires 1 KoKo Credit each day.
- You can earn more KoKo credits from Homework, Daily Bonus and Daily Challenge.