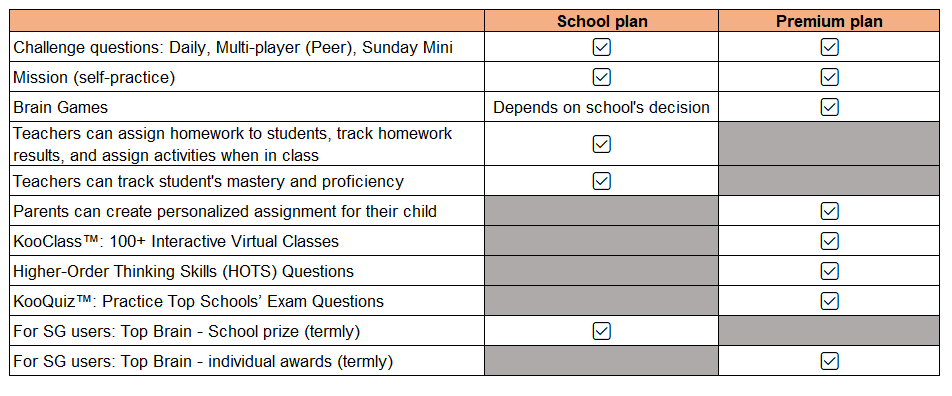 School plan:
- Teachers can assign homework to students, track results and assign activities when they are in class
- Teachers can track student's mastery and proficiency
- Compete with classmates/schoolmates in Top Brain leaderboard for the
School Prize
(Singapore only)

Premium plan:

Access to the following enrichment features:
a)
Interactive virtual classes
to help kids aged 6-12 years learn about real-world applications of Math topics taught in school (under feature
KooClass
)
b)
Higher Order Thinking Skills (HOTS)
questions to provide more challenges using Heuristic approaches (under feature
Mission
)
c) our
In-house Math revision papers
(under feature
KooQuiz
)
d)
compiled Top School Papers for Math
(under feature
KooQuiz
). Learn more about KooQuiz
here
.
e) an additional
AI report
to track your child's learning progress for HOTS, highlighting the strengths and weaknesses (under feature Report)
f) assigning
custom created worksheets by parents
to the child (under feature Assignment)
For Premium Plan users based in Singapore - users will qualify for Top Brain individual awards (termly) if they earn at least 500 CPs for the term. Learn more at
koobits.com/awards/topbrain.
Overall, KooBits Premium plan will upgrade your child's learning experience to a new level beyond the standardized school experience. If you would like to try our Maths Premium Plan first before deciding to purchase, you can register a 7-day free trial.
Learn more about all plans at koobits.com/plans, and feel free to contact our support team!